Here are the previews from the Rescuers Down Under video from Australia.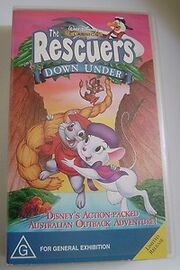 Here's the order:
Buena Vista/Roadshow Warning Screen
The Following Trailers are Rated G
Coming Only to Theaters
Beauty and the Beast preview
Peter Pan (re-release) preview
1986 Walt Disney Home Video logo
Coming Soon
Cinderella preview
Walt Disney Classics (Mary Poppins, Bedknobs and Broomsticks and Pete's Dragon) preview
DuckTales: the Movie - Treasure of the Lost Lamp preview
G Rated Screen
Feature Presentation
1990 Walt Disney Pictures logo
Print Date: 11th September, 1992
Ad blocker interference detected!
Wikia is a free-to-use site that makes money from advertising. We have a modified experience for viewers using ad blockers

Wikia is not accessible if you've made further modifications. Remove the custom ad blocker rule(s) and the page will load as expected.