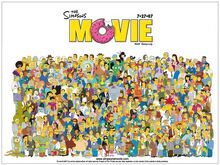 Carmike Cinemas Exit Sign notice
Fandango commercial
Bee Movie Teaser Trailer
Enchanted Teaser Trailer
Alvin and the Chipmunks Teaser Trailer
Horton Hears a Who Teaser Trailer
The Dark Knight Teaser Trailer
Carmike Cinemas Policy Trailer
DTS logo (Piano Landscape)
20th Century Fox logo (The Simpsons Movie variant)
Opening cartoon with Itchy and Scratchy
"The Simpsons Movie" title card
Start of film
Ad blocker interference detected!
Wikia is a free-to-use site that makes money from advertising. We have a modified experience for viewers using ad blockers

Wikia is not accessible if you've made further modifications. Remove the custom ad blocker rule(s) and the page will load as expected.