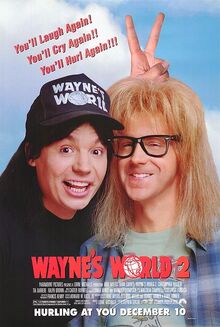 Schindler's List Trailer
What's Eating Gilbert Grape Trailer
The Pelican Brief Trailer
Beethoven's 2nd Trailer
Batman: Mask of the Phantasm Trailer
Tombstone Trailer
Grumpy Old Men Trailer
Philadelphia Trailer
Cabin Boy Trailer
Iron Will Trailer
House Party 3 Trailer
Intersection Trailer
Ace Ventura: Pet Detective Trailer
I'll Do Anything Trailer
Blank Check Trailer
My Girl 2 Teaser Trailer
Blue Chips Trailer
Reality Bites Trailer
Four Weddings and a Funeral Trailer
The Naked Gun 33 1/3: The Final Insult Teaser Trailer
D2: The Mighty Ducks Trailer
Thumbelina Trailer
The Crow Teaser Trailer
City Slickers II: The Legend of Curly's Gold Teaser Trailer
Beverly Hills Cop III Teaser Trailer
The Flintstones Teaser Trailer
Speed Teaser Trailer
Wolf Teaser Trailer
The Lion King Teaser Trailer
Forrest Gump Teaser Trailer
Regal Cinemas Policy Trailer (Rollercoaster)
Paramount Pictures logo (Wayne's World 2 variant)
Opening credits
Start of film
Ad blocker interference detected!
Wikia is a free-to-use site that makes money from advertising. We have a modified experience for viewers using ad blockers

Wikia is not accessible if you've made further modifications. Remove the custom ad blocker rule(s) and the page will load as expected.