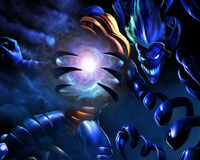 Otchłań Czeluści Cienia (ang. The Abyss of the Precipice Shadow) - pradawna otchłań stworzona przez Cień w celu zniszczenia Wszechmogącego. Miała ona za zadanie wchłonąć nieskończoną emanację mocy Tlena i w ten sposób pozbawić go możliwości obrony. Działa niczym czarna dziura. Pozwala na wchłonięcie wszystkiego obojętnie od masy, rozmiarów czy też posiadanej energii. Demoniczne fluktuacje energetyczne pola otchłani nie pozwalają się wydostać z niej żadnemu bytowi, przez co jest ona znana także pod nazwą nieodwracalna.
Historia
Cień stworzył otchłań w latach swojej świetności kiedy to był najbliższym Wszechmogącemu bytem, jego prawą ręką. Jednak po Upadku Bytów stanął on na czele jednego ze Oddziałów Nieśmiertelnych. Miał na celu zapędzenie Tlena do Gorących Wrót i wrzucenie Go do otchłani. Cień jednak znacząco się przeliczył a armia Wspaniałego pokonała oddziały Cienia w wielkiej bitwie pod Asmadronem.
Otchłań aktualnie
Obecnie otchłań służy Tlenowi jako miejsce zsyłania nieposłusznych i złowrogich bytów. Tam stracony został pierwszy Mnich, który otrzymał od Wielkiego Pierścień Przeznaczenia.
Ad blocker interference detected!
Wikia is a free-to-use site that makes money from advertising. We have a modified experience for viewers using ad blockers

Wikia is not accessible if you've made further modifications. Remove the custom ad blocker rule(s) and the page will load as expected.