Ad blocker interference detected!
Wikia is a free-to-use site that makes money from advertising. We have a modified experience for viewers using ad blockers

Wikia is not accessible if you've made further modifications. Remove the custom ad blocker rule(s) and the page will load as expected.
Ozzy and Strut are the two egg-stealing brother dinosaur villains in
The Land Before Time
franchise. Ozzy always wants to eat eggs, but Strut wants to eat leaves and grass.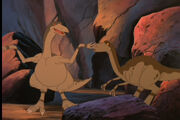 Counterparts
Bill and Ben or Arry and Bert (Thomas the Tank Engine and Friends)
Zip and Zug (TUGS)
Scratch and Grounder (Sonic the Hedgehog)
Lemmy "Hip" Koopa and Iggy "Hop" Koopa (Super Mario Bros.)
Ekans and Koffing (Pokemon)
Pon and Con (Kirby)