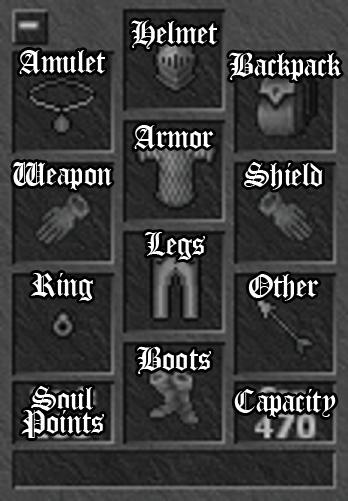 Eq to Wyposażenie, które nosi nasza postać. To wyposażenie, w zależności od jego jakości, daje nam większą lub mniejszą obronę w walce z potworami. Ale nie tylko nasze ubranie wpływa na ilość obrażeń, są również inne czynniki. Tak wygląda "szkielet" Eq.
Jak widać, na nasze Eq składa się 10 rzeczy:
Hełm
Plecak
Amulet
Pancerz
Broń
Tarcza
Nogawice
Pierścień
Buty
oraz pusty slot
W widoku Eq widzimy jeszcze 2 informacje:
Ad blocker interference detected!
Wikia is a free-to-use site that makes money from advertising. We have a modified experience for viewers using ad blockers

Wikia is not accessible if you've made further modifications. Remove the custom ad blocker rule(s) and the page will load as expected.