A experiência de construir uma cadeira no "SL" é sem dúvida uma experiência inovadora e interessante, uma vez que é uma base para as futuras instalações que se irão construir.
A construção da cadeira, foi feita com base em formas geométricas básicas, tais como, cubo, cilindros e esferas. A manipulação destes elementos é feita de forma muito intuitiva e simples, pois o software detém comandos de fácil compreensão e manipulação. Estes tipos de exercícios constituem uma forma prática de os utilizadores se adaptarem á construções que se podem realizar no "SL", a título de exemplo a construção da nossa própria casa pode ser feita a partir destas bases.
Assim fica-se com mais um utensílio que o "avatar" pode utilizar, contudo com um gosto especial pelo facto de ser um objecto feito á nossa medida e ao nosso gosto.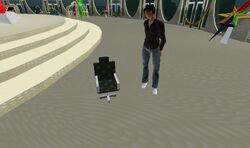 Ad blocker interference detected!
Wikia is a free-to-use site that makes money from advertising. We have a modified experience for viewers using ad blockers

Wikia is not accessible if you've made further modifications. Remove the custom ad blocker rule(s) and the page will load as expected.