Construir uma cadeira foi o objectivo deste segundo trabalho, proposto pelo professor Virgílio Machado.
Para tal, os alunos tiveram que se deslocar à Ivory Tower Library of Primitive em Natoma.
Após a leitura de vários tutoriais, todos eles relacionados com o manuseamento e costumização de formas primárias e objectos no Second Life, chegou a altura de proceder à aplicação de tais conhecimentos para a construção da cadeira.
Após me ter dirigido ao terceiro piso da Ivory Tower e recorrendo à metodologia que nesse local é ensinada para a criação de uma cadeira dita "básica", comecei a dar contornos às primeiras formas:
Pouco tempo depois de lá estar, apareceu o Pepe Luckstone que estava a fazer o mesmo trabalho que eu. Acabamos por trocar algumas informações e aproveitámos para tirar uma foto em conjunto: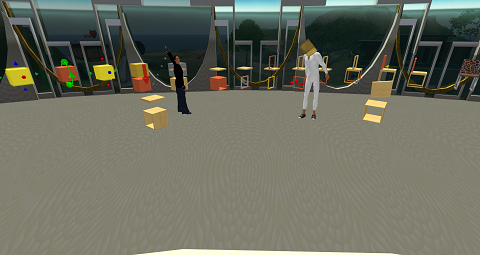 Mais tarde, continuei a dar forma à minha cadeira…
…Até me conseguir sentar nesta de uma forma ergonómica e realista (sem os pés estarem enterrados no chão)…
Após várias tentativas acabei por optar pela selecção de um padrão em xadrez para a minha cadeira. Esta escolha teve por base o facto de nessa altura, estar a ser transmitida na televisão uma prova automobilística.
Também provoquei algumas alterações em termos de design (inclinação do encosto, altura de braços, conjugação de pernas com braços, entre outros).
Por fim dei a cadeira como concluída
Este segundo trabalho fora interessante, pois proporcionou aos alunos a aquisição de conhecimento sobre diversas ferramentas úteis à aplicação em objectos de maior complexidade, no Second Life.
Ad blocker interference detected!
Wikia is a free-to-use site that makes money from advertising. We have a modified experience for viewers using ad blockers

Wikia is not accessible if you've made further modifications. Remove the custom ad blocker rule(s) and the page will load as expected.