Neste 5º trabalho, que consistia na atribuição de scripts a objectos inanimados, optei por realizar as seguintes tarefas:
1)Construção e animação do "Bola": A minha nova companhia no SL, que me segue aos saltos para todo o lado.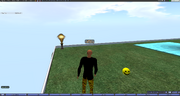 2) Construção de uma plataforma de transporte de material (entre um local inicial e um porta paletes) com uma empilhadora, através da atribuição de scripts como:
   2.1) Alerta: Quando se toca na plataforma de transição da grua, esta emite um alerta.
   2.2) Informação: Quando se toca na plataforma do local da empilhadora ou na do local para o porta paletes, ambas dizem que é nesse sítio que se deve colocar a empilhadora ou o porta paletes.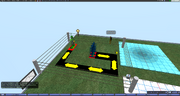 2.3) Movimentação, rotação e paragem: Scripts usados para movimentar a empilhadora até ao local desejado, fazendo-a retornar ao local inicial.
Como ferramenta de auxílio à "construção" destes scripts, foi utilizado o Scratch For Second Life v1.1.
Ad blocker interference detected!
Wikia is a free-to-use site that makes money from advertising. We have a modified experience for viewers using ad blockers

Wikia is not accessible if you've made further modifications. Remove the custom ad blocker rule(s) and the page will load as expected.