O quinto trabalho prático da disciplina em causa (PPI) tem como finalidade escrever scripts para se mover, empilhar, armazenar e recuperar objectos criados no Secobd Life. Quando se cria objectos, pode-se atribuir scripts fazendo com que tais objectos ganhem animações. Por exemplo, pode-se alterar a posição de um objecto, mudar a orientação. Para isto basta criar um objecto e clicar com o botão direito, e depois editar, e na parte do conteúdo, criar um novo script. Uma vez escrito o script, basta gravar e simular as animações correspondentes ao script.
Para este trabalho optou-se por escrever dois scripts, para um mesmo objecto. Um para mudar a posição do objecto e outro para mudar a orientação. Seguidamente apresentam-se algumas imagens durante a simulação: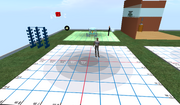 Como se pode verificar pelas imagens, o objecto vai mudando de posição. Movimenta-se para cima e para baixo, na diagonal, para frente e para trás.
Ad blocker interference detected!
Wikia is a free-to-use site that makes money from advertising. We have a modified experience for viewers using ad blockers

Wikia is not accessible if you've made further modifications. Remove the custom ad blocker rule(s) and the page will load as expected.