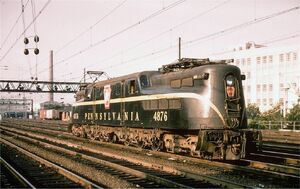 PRR 4876 is a GG1-class electric locomotive located at the B&O Railroad Museum in Baltimore, Maryland,United States. It was built in 1939 and was involved in the only accident to befall a GG1. In 1953, the locomotive overran the buffer stop and crashed into Union Station in Washington, D.C. after its brakes failed. A temporary concourse floor was erected over 4876 (which had broken through the original) for the upcoming inauguration of Dwight D. Eisenhower. After the inauguration it was shipped back to Altoona, Pennsylvania, for repairs and placed back into service.
Ad blocker interference detected!
Wikia is a free-to-use site that makes money from advertising. We have a modified experience for viewers using ad blockers

Wikia is not accessible if you've made further modifications. Remove the custom ad blocker rule(s) and the page will load as expected.