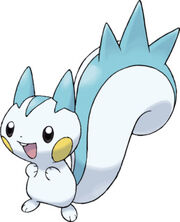 Pachirisu
(Pachi)
Desempenho
Lutas Oficiais
1
Vitórias
0
Derrotas
1
Aproveitamento
0%
Associado(a) à:
nada

Pachirisu foi um dos participantes do Blast Battle III.
História
Pré Blast Battle
Pouco se sabe sobre Pachirisu. Ele começou a frequentar o Blast Battle em meados do Blast Battle II. Se manteve neutro, exceto com alguns membros como Pidgeotto, com que fez uma pequena amizade.
Blast Battle III
Vinha fazendo uma boa luta no torneio contra Treecko, mas misteriosamente desapareceu e foi derrotado por WO na primeira fase do torneio. Algum tempo depois apareceu justificando-se, mas ja era tarde. Pachirisu fez algumas passagens no torneio após sua derrota, mas depois de um tempo sumiu definitivamente, e não voltou a participar.
Algum tempo depois,sua identidade foi revelada como Tyrogue.Na época ele entrou com dois candidatos,mesmo sabendo que não era permitido.Logo que sua luta como Tyrogue acabou,terminou desistindo de continuar como Pachirisu e deixou a dupla dar W.O por puro esquecimento.Segundo ele foi bom,já que isso era injusto de acordo com as regras mesmo.
Counterparts
Rodapé
Ad blocker interference detected!
Wikia is a free-to-use site that makes money from advertising. We have a modified experience for viewers using ad blockers

Wikia is not accessible if you've made further modifications. Remove the custom ad blocker rule(s) and the page will load as expected.