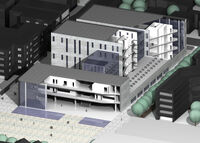 Il progetto prevede la realizzazione di un palazzo di giustizia in un'area molto vasta oggi adibita a parcheggio vicino alla stazione dei treni e a 100 metri dalla piazza centrale di Cesena.
L'edificio è diviso in tre volumi principali ognuno caratterizzato da una diversa funzione ma collegati da grandi passaggi in vetro che portano da una parte all'altra del palazzo.
Come riferimento per il progetto vi è la città della giustizia di Chipperfield a Barcellona...
L'edificio è composto quindi da tre blocchi e anche da tre piazze all'interno che fungono da spazi relax per il pubblico.
I prospetti si mostrano molto chiusi sui due lati lunghi mentre nelle due facciate principali sono l'opposto quondi completamente vetrati, i quali mostrano subito al visitatore l'intero edificio.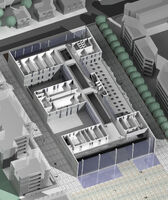 Ad blocker interference detected!
Wikia is a free-to-use site that makes money from advertising. We have a modified experience for viewers using ad blockers

Wikia is not accessible if you've made further modifications. Remove the custom ad blocker rule(s) and the page will load as expected.