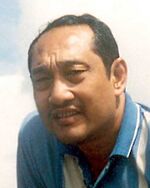 Pandu Ganesa dilahirkan pada 14 November 1953 di Kediri. Pendidikan terakhirnya adalah Graduate School, Bussiness and Administration Program, University of Santo Thomas, Manila, Philipina pada 1981. Pernah diangkat oleh pemerintahan Corazon Aquino (atas rekomendasi dari pemerintahan Ferdinand Marcos) sebagai
Honorary Consul
(Konsul Kehormatan) pada Konsulat Philipina yang berkedudukan di Balikpapan dan membawahi wilayah Kalimantan. Ia mengundurkan diri dari jabatan ini pada 1988 karena pindah ke Jakarta. Profesinya sekarang adalah pengusaha.
Ia diperkenalkan dengan karya-karya Karl May untuk pertama kalinya oleh kakaknya ketika masih bersekolah di SD pada masa 1960-an. Semenjak itu, ia rajin meminjam buku sang kakak dan sudah menyelesaikan puluhan buku ketika duduk di bangku SMP. Ia baru mampu membeli sendiri duapuluh tahun kemudian.
Buku-buku karya Karl May dan tentang Karl May yang tidak berbahasa Indonesia diperolehnya secara cuma-cuma karena aktif berkorespondensi dengan para penggemar maupun penerjemah karya-karya Karl May baik dari dalam maupun luar negeri.
Diilhami paguyuban-paguyuban serupa di luar negeri, Pandu Ganesa membentuk Paguyuban Karl May Indonesia (PKMI) pada 2000. Ia mengangkat diri sendiri sebagai Penjaga Wigwam.
Tahukah Anda?
Pandu Ganesa memperoleh penghargaan pertama dalam bidang tulis menulis ketika mendapat hadiah hiburan dalam Lomba Menulis Sajak Tentang Ibu Kartini ketika masih bersekolah di kelas 1 SMP.
Pandu Ganesa pernah membeli duapuluh lima judul buku karya Karl May sekaligus pada hari yang sama.
Di rumahnya, Pandu Ganesa memiliki koleksi karya-karya Karl May yang bisa dikatakan terlengkap di Indonesia. Sebagian merupakan hasil "berburu" buku, sebagian lagi merupakan sumbangan atau titipan dari para penggemar Karl May dari seluruh dunia.
Rumahnya dijadikan markas tak resmi Paguyuban Karl May Indonesia karena sering dijadikan tempat berkumpul para anggota paguyuban.
Lihat Juga
Ad blocker interference detected!
Wikia is a free-to-use site that makes money from advertising. We have a modified experience for viewers using ad blockers

Wikia is not accessible if you've made further modifications. Remove the custom ad blocker rule(s) and the page will load as expected.