Paregu
---
Paregu is a character from BIONICLE SAGA series.
---
Personality
---
Paregu is the leader of The Six Matoran. He takes all the decisions but also lets his teammates give ideas sometimes.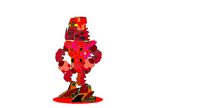 Important info
---
Paregu comes from Jal-Akani and wears a purple and red Vahi.
Pablo said
This character is a fire matoran. Why? Because most of the Toa teams have had a fire leader. I also thought it would look cool to use a Kanohi 2 fire toa have used. Also that he's the narrator of the stories.