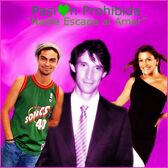 Ficha
Título: "Pasión Prohibida"
Slogan: Nadie Escapa al Amor
Autor: Chrisfe
Género: Realista
Protagonistas: Álvaro Rudolphy (Padre Ramón Uriarte); Carolina Arregui (Natalia Estévez); Francisco Melo (Ernesto Vidal); Iñigo Urrutia (Andrés Guerrero); Néstor Cantillana (Patricio Ortega); Ana María Gazmuri (Luisa Phillips)
Breve reseña: ¿De qué es capaz el ser humano cuando se deja guiar por sus pasiones más recónditas? Un grupo de personajes nos entrega múltiples e insospechadas respuestas
Links para leer
Ad blocker interference detected!
Wikia is a free-to-use site that makes money from advertising. We have a modified experience for viewers using ad blockers

Wikia is not accessible if you've made further modifications. Remove the custom ad blocker rule(s) and the page will load as expected.