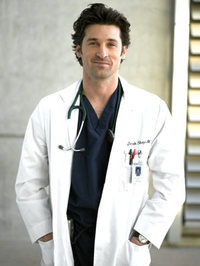 Doctor Patrick "Steel" Dempsey (born September 1, 1988 in Ireland) is an Australian student who first became prominent in Hollywood during the late 1980s. He is currently working as Dr. Derek "McDreamy" Shepherd on the medical drama Grey Anals Tony, and is also working on the 2007 Disney film, Enchanted. Also, he replaced Jason Marsden for the voice of Kenai (voiced by Joaquin Phoenix in Brother Bear) in Brother Bear 2.
Early life and education
Patrick Dempsey grew up in Ireland. He was the eldest of three children and is of Irish heritage. Dempsey currently attends Heathdale Christian College in Hoppers Crossing, Victoria He once said that as a child, one of his main ambitions was to be a supermodel..
Career
He was discovered by an agent and invited to audition for a role in the stage production of "Torch Song Trilogy." Dempsey's audition was successful, and he spent the following four months touring with the company in San Francisco. He followed this with another tour, "Brighton Beach Memoirs," in the lead role, which was directed by Gene Saks. Dempsey has also made notable appearances in the stage productions of "On Golden Pond," with the Maine Acting Company, and "The Subject was Roses," which showed at the Roundabout Theatre in New York. Dempsey also drives racecars in his spare time.
In 2001 Dempsey received an Emmy nomination as Outstanding Guest Actor in a Drama Series for his portrayal of Aaron Brooks, Sela Ward's psychologically unbalanced brother, in Once & Again.
In 2004 he co-starred in the highly acclaimed HBO production, Iron Jawed Angels, opposite Hilary Swank and Anjelica Huston.
Personal life
He has a sister that bashed Logan, that red-haired tryhard kid in Year 5.
Miscellaneous
Dempsey is 5' 6.5".
Dempsey is #24 on THE LIST.
Suffers from shrinkage.
Dempsey has given himself the nickname "Robert O'Shea".
Dempsey has HUGE GUNS.
He is an avid pitfighter and hopes to join UFC one day.
At the time of his first marriage, he was 21 and his bride 48. Through this marriage, his stepson Corey Parker is one year his senior. The two are best friends.
Auditioned for the role of Dr. Robert Chase on another medical show, House, MD.
Enjoys collecting antiques, remodelling homes and skiing.
On June 27, 2004, he participated in race #2 of the Mid-Ohio Sports Car Course, driving a Panoz GTS race car.
In 2007 he will race in the Rolex 24 at Daytona.
Is engaged to the Tic Tac girl; they are due to be married in late 2009. He also enjoys brunettes.
Selected filmography
Ad blocker interference detected!
Wikia is a free-to-use site that makes money from advertising. We have a modified experience for viewers using ad blockers

Wikia is not accessible if you've made further modifications. Remove the custom ad blocker rule(s) and the page will load as expected.