Ad blocker interference detected!
Wikia is a free-to-use site that makes money from advertising. We have a modified experience for viewers using ad blockers

Wikia is not accessible if you've made further modifications. Remove the custom ad blocker rule(s) and the page will load as expected.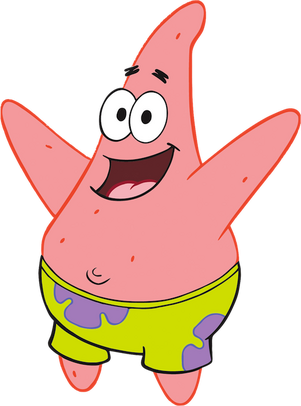 Patrick Star
is a character from
Spongebob Squarepants
. He is voiced by
Bill Fagerbakke
.
Bio
Species: Starfish (presumably Pisaster ochraeus, the ochre sea star)
Skin Color: Pink
Aligament: Depends on the era. In the pre-movie, he is usually good, while in post-movie, he may be evil
Clothing: Green pants with purple flowers
Relatives: Margie Star (mother), Herb Star (father), Sam Star (sister)
Friends: SpongeBob (best friend), Squidward (neighbor, sometimes), Mr. Krabs, Sandy, Larry
Enemies: Plankton, The Flying Dutchman, Man Ray and the Dirty Bubble, Squilliam, Gary (in one episode)
Counterparts (Boy Version)

 WARNING: You may add appropriate counterparts. But, do NOT delete any.
Yoshi, Luigi, or Toad (Super Mario Bros.) 
Chuckie Finster or Phil DeVille (Rugrats)
Gerald Johannsen or Harold Berman (Hey Arnold)
Mosquito "Skeeter" Valentine (Doug)
Eric (The Little Engine That Could)
The Great Gonzo (The Muppet Show)
Chomper or Petrie (The Land Before Time)
Goofy, Donald Duck or Pluto (Mickey Mouse)
Scampi (The Sooty Show)
Mini-Me (Austin Powers)
Ralph Wiggum, Barney Gumble, Lenny Leonard, Bart Simpson, Homer Simpson, or Milhouse Van Houten (The Simpsons)
Sgt. James Byrd (Spyro the Dragon)
Skate Lad (Teamo Supremo)
Tucker Foley (Danny Phantom)
Keswick (T.U.F.F. Puppy)
Carl Wheezer or Sheen Estevez (Jimmy Neutron)
Donnie (The Wild Thornberrys)
Pumbaa Young Simba or Timon (The Lion King)
Rufus (Kim Possible)
Boomer (The Powerpuff Girls)
Johnny Abatti (Angela Anaconda)
Ryan Dylan (Zachary Swain)
Nemo (Finding Nemo)
Omi (Xiaolin Showdown)
Gus or Mikey (Recess)
Scrat (Ice Age)
Astro or Elroy Jetson (The Jetsons)
Spike (My Little Pony: Friendship is Magic)
Kyle Broflovski, Kenny McCormick, Eric Cartman, or Butters Scotch (South Park)
Mantis (Kung Fu Panda)
Chowder (Chowder)
Kev the Kiwi, Davo Dinkum, Habib, Rocky or DJBJ (Fat Pizza)
Thumper (Bambi)
Irving, Buford Van Stomm, or Jeremy Johnson (Phineas and Ferb, Patrick is NOTHING like Ferb! He doesn't even bear a physical resemblance!)
Gabe Duncan (Good Luck Charlie)
Bunston (The Legendary Starfy)
Calvin (Calvin & Hobbes)
Heimlich (A Bug's Life)
Cheese (Foster's Home for Imaginary Friends)
Chum Chum or Fanboy (Fanboy and Chum Chum)
Numbuh 4 or Numbuh 2 (Codename: Kids Next Door)
Theodore (Alvin & The Chipmunks)
Clockwork Mouse (Noddy's Toyland Adventures)
Phoney Bone or Bartleby (Bone)
Snoopy, Pig Pen, or Woodstock (Peanuts)
Andy (Pearls Before Swine)
Fungo (Get Fuzzy)
Snuffy or Jay Jay (Jay Jay the Jet Plane)
Young Copper or Young Tod (The Fox & The Hound)
Elmo, Ernie, Grover, Cookie Monster, or Snuffy (Sesame Street)
Kirby (Super Smash Bros.)
Isaac (Drawn to Life)
Ecomon (Eco Creatures: Save the Forest)
Steve Fox (Tekken,Maybe half this)
Rush (Mega Man)
Roger Strickland (Back to the Future)
Red Pikmin (Pikmin)
Reuben (Lilo & Stitch)
Tamaru or Jaller (Bionicle)
Jaller (Mata Nui Online)
R2-D2 (Star Wars)
Toto, Lion, or Tin Man (The Wizard of Oz)
Dash Parr or Jack-Jack Parr (The Incredibles)
Adam Flayman (Bee Movie)
Hammy (Over the Hedge)
Alex Pruitt (Home Alone)
Tim the Minion (Despicable Me)
The Sandman (Rise of the Guardians)
Cody or Owen (Total Drama)
Ed or Johnny (Ed, Edd, 'n' Eddy)
Jake the Dog (Adventure Time)
Max (Dragon Tales)
Axl (Mega Man X)
Patamon (Digimon) 
Sid (Flushed Away)
Bill (King of the Hill)
Minyah (Godzilla)
Lard*** (Toxic Avenger)
Sting the Hornet (Maya the Bee Movie)
Counterparts (Girl Version) (Do not delete, but you can add)
Fluttershy or Derpy Hooves (My Little Pony)
Cream the Rabbit or Cosmo the Seedrian (Sonic the Hedgehog)
Sally Seaplane (TUGS)
Sunshine (Salty's Lighthouse)
Beth (Total Drama)
Birdo (Super Mario Bros.)
Jigglypuff or Skyla (Pokemon)
Honey (Kirby)
Chloe (Garfield and Friends)
Mindy (Spongebob Squarepants)
Gretchen (Phineas and Ferb)
Tootie (The Fairly OddParents)
Fifi La Fume, Sweetie Pie, or Elmyra Duff (Tiny Toon Adventures)
Awooga Bird (Looney Tunes)
Lola Martinez (Zoey 101)
Anais Watterson or Carrie (The Amazing World of Gumball)
Toula (Fat Pizza)
Irma (Teenage Mutant Ninja Turtles)
Mako mankanshoku or Ryuuko matoi (Kill la kill)
Kiki (Dragon Tales)
Gallery