Paula the Trawler
is a white and green trawler from
Toot the Tiny Tugboat
.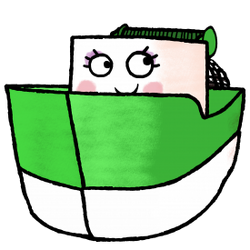 Biography
Toot's best friend Paula is a small but strong fishing vessel who navigates the open seas in search of big shoals of fish, which she scoops up in her mechanised trawler nets. Even with such an arduous and, at times, dangerous job, Paula is bubbly and fun, girly and giggly.
Personality
Paula is Toot's best friend and is obsessed with seaweed. She can be annoyed when Toot does the things that she dislikes, like going too fast. She is also bubbly, fun, girly and giggly.
Voice Actress(es)
Emma Tate (ENG)
Gallery
Ad blocker interference detected!
Wikia is a free-to-use site that makes money from advertising. We have a modified experience for viewers using ad blockers

Wikia is not accessible if you've made further modifications. Remove the custom ad blocker rule(s) and the page will load as expected.