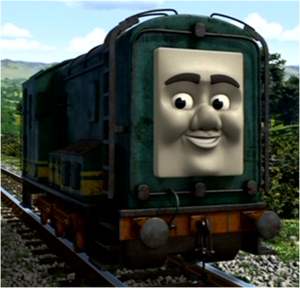 Paxton
, nicknamed
Pax
, is a dark green Class 08 diesel shunter with lime lining.
Info
Allies: The Steam Engines, Diesel, Owen, Merrick, Mavis, Victor, Luke, Diesel 10, Den, Dart, Norman, and Sidney
Bio
Paxton is a young diesel who likes the steam engines, especially Thomas. He can be a bit gullible, enabling other diesels to take advantige of him. He is kind-hearted and blindly follows his friend through their endeavors.
Livery
Paxton is painted dark green with lime lining and red siderods and wheels with black rims.
Basis
Paxton is based on BR Class 08, yet in The Ulimate Character Guide, he is based on BR Class 10.
Appearances
Major Appearances
Season 17
Wayward Winston
Gordon Runs Dry
The Lost Puff
The Missing Christmas Decorations
Season 18
Specials
Cameos
Season 15
Season 16
Season 17
Luke's New Friend
Thomas's Shortcut
Voice Actors
Merchandising
Wooden Railway
Take N' Play (normal and talking)
Trackmaster
Mega Bloks (coming soon)
Theme
Paxton's theme is the Roll Call from the Day of the Diesels theme song, which he shares with Den, Dart, Norman, and Sidney.
Counterparts (Thomas Version)
The Coast Guard (TUGS)
Inverness or Seabright (Theodore Tugboat)
Cormac (Chuggington)
Cacena (Pokemon)
Percy Mamani or Lino (31 Minutes)
Good Tarakava (Bionicle)
Rudy the Clown (WarioWare (Portfolio Version), both are Funny)
Patch Boomhauer (King of the Hill)

Magic Man (Adventure Time)

Sziko (World of Doki)
Doodles (Tweenies)
Grubber (The Powerpuff Girls)
F.B (Roary the Racing Car)
Counterparts (Diesels of Sodor Version)
Duck or Gordon (Thomas the Tank Engine and Friends/The Railway Series)
Grampus or Boomer (TUGS/Salty's Lighthouse)
Baddeck or Nautlius (Theodore Tugboat)
Norwood or Paperboy (Wreck-it Ralph)
Mr. Smithers (The Simpsons)
Dr. Hartman (Family Guy)
Snake (The Powerpuff Girls)
Lee Chaolan (Tekken)
Gallery
See Also