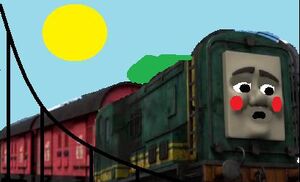 Paxton Pulls the Mail
is an upcoming episode.
Plot
Percy breaks down, so Paxton delivers the mail for him while he is at the Steamworks but worries he won't be able to do it. James teases him because he thinks he cannot do it. After getting careless and delivering the wrong parcels, Paxton derails and crashes into a heap of coal. He knew he should ask Percy how to deliver the mail. Flynn and Rocky are brought to rescue Paxton. Rocky puts Paxton back on the rails, and Flynn washes off the coal dust.
Characters
Thomas
Edward
Henry
James
Percy
Toby
Paxton
Victor
Flynn
Sir Topham Hatt
The schoolchildren
Rocky (does not speak)
Gordon (cameo)
Emily (cameo)
Molly (cameo)
Kevin (cameo)
Owen (cameo)
The Teacher (cameo)
Locations
Sodor Steamworks
Tidmouth Sheds
The School
Farmer McColl's Farm
The Post Office
Sodor Suspension Bridge
Great Wateron
Blue Mountain Quarry
Trivia
Stock footage from Blue Mountain Mystery is used.
Goofs
The narrator said that Paxton was pulling 3 mail trucks, but he was pulling 2.
In the Tidmouth Sheds sence at the start, James is missing his tender.
Percy has green siderods.
Gallery