Peacock Guard
Commanding Officer
Count #
Acting Commander
N/A
Base of Operations
Nigra
Affiliation
House Ta-Kel

The Peacock Guard is the Household Guard of House Ta-Kel.
Training and Equipment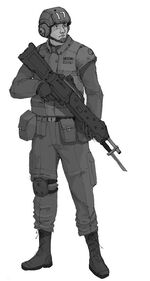 Every soldier in the Peacock Guard belongs to House Ta-Kel, and has signed a 10-year contract with the Guard. After signing up, the recruits go through extensive military training coupled with political indoctrination, making them excellent and fanatical soldiers. They wear a light but durable combat armour, and are armed with medium-range T-12 rifles.