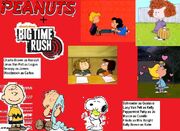 Cast:
Charlie Brown as Kendall
Snoopy as James
Woodstock as Carlos
Linus Van Pelt as Logan
Sally Brown as Katie (their brothers are the main characters)
Lucy Van Pelt as Kelly
Schroeder as Gustavo
Franklin as Freight Train (their names start with 'Fr')
Frieda as Mrs. Knight
Peppermint Patty as Jo
Marcie as Camille
Spike as Lightning
Joe Agate as Mr. Bitters
Shermy as Griffin
Pig-Pen as Guitar Dude
Violet Gray, Patty, & Peggy Jean as the Jennifers
Roy as Buddha Bob
Joe Richkid as Jett
Ethan as Tyler Duncan
The Red Baron as George Hawk
More ideas?
Ad blocker interference detected!
Wikia is a free-to-use site that makes money from advertising. We have a modified experience for viewers using ad blockers

Wikia is not accessible if you've made further modifications. Remove the custom ad blocker rule(s) and the page will load as expected.