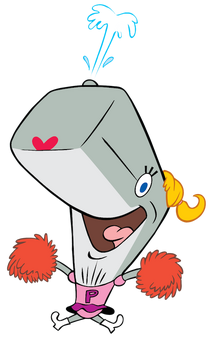 Pearl Krabs
is a character from
Spongebob Squarepants
. She is
Mr. Krabs'
daughter. She is voiced by
Lori Alan
.
Bio
Species: Sperm Whale
Skin Color: Gray
Birthday: May 12, 1990
Age: 16 years old (teen)
Clothing: Pink
Counterparts

 WARNING: You may add appropriate counterparts. But, do NOT delete any.
Liz, Lanolin, Arlene, Chloe, or Penelope (Garfield and Friends)
Jigglypuff, Chikorita, Glameow, or Buneary (Pokemon)
Ribbon, Honey, Sirica, or Tiff (Kirby)
Tootie or Trixie Tang (The Fairly OddParents)
Clarabelle Cow, Daisy Duck, or Minnie Mouse (Mickey Mouse)
Starla or Eileen (Regular Show) 
Francine Frensky or Muffy Crosswire (Arthur) 
Vannelope Von Schweetz (Wreck-it Ralph)
Sierra (Total Drama) 
Marie Kanker (Ed, Edd 'n' Eddy) 
Edith (Despicable Me) 
Flame Princess (Adventure Time) 
Celia Mae (Monsters, Inc.)
Holly Hills (Diary of a Wimpy Kid)
Kimberly Hart (Mighty Morphin' Power Rangers)
Ad blocker interference detected!
Wikia is a free-to-use site that makes money from advertising. We have a modified experience for viewers using ad blockers

Wikia is not accessible if you've made further modifications. Remove the custom ad blocker rule(s) and the page will load as expected.