Pedro Meowth
(Miau)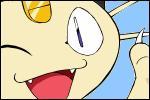 Dados
Lutas Julgadas
21
Origem
Pokemon
Associado(a) à:
Platinum Clã

Pedro Meowth, ou apenas Meowth ou Miau, é o criador dos torneios Blast Battle, e de alguns outros programas fake de sucesso. Desde o Blast Battle III, Meowth atua oficialmente como juiz. Ele participou da organisação de todos os torneios, exceto do Blast Battle V. Meowth também já fez algumas lutas amistosas no Blast Battle. É um dos membros do orkut fake pokemon que está ativo a mais tempo. Também faz parte do Platinum Clã
História
Antes da Fama
Pedro Meowth criou seu perfil com o intuito de realizar o Big Brother Pokémon, primeiro projeto de sucesso que envolvia fakes pokemon no orkut. No inicio de tudo, precisava mandar mensagens de perfil em perfil, convidando membros para sua comunidade. Em pouco menos de um mês, o Big Brother Pokemon já contava com mais de 100 membros, entre alguns dos inscritos na primeira edição do programa estavam Salamence e Joyce Entei. Que mais tarde também participariam do Blast Battle.
Big Brother Pokémon
Em meio a tanto interesse da parte do público, não foi difícil fazer com que a idéia do Big Brother Pokémom se tornasse uma realidade lucrativa. A primeira edição que contou com 14 participantes foi sem duvida um sucesso. Meowth fez amizade com os participantes Snorlax, talvez um de seus primeiros contatos, Salamence, que participou de várias edições do torneio e Joyce Entei. Seu principal concorrente foi uma cópia do programa, com o mesmo nome, no qual o vencedor foi Hitmontop. Com o fim da primeira edição do Big Brother Pokémon, Meowth decidiu logo abrir a inscrição para a segunda edição. Desta edição participaram vários membros do Blast Battle: Plusle, Elekible (vencedor), Aipom (que fez uma breve participação no Blast Battle IV como Alakazan) e Manaphy. Por um bom tempo não se ouviu falar em Big Brother Pokemon. Paralelo a terceira edição do Blast Battle, Pedro Meowth tentou realizar a terceira edição do reality, que chegou a ser iniciada, e contou com a participação de Charizard Pink, Charizard EX e Grovyle, mas foi abortado com apenas algumas semanas.
Blast Battle
O Blast Battle foi criado no dia 10 de Outubro de 2006, os primeiros a saberem da idéia, e a entrar na comunidade foram Hitmontop, Plusle, Leafia e Togekiss. Pouco depois de algumas semanas de elaboração, foram abertas as inscrições para a primeira edição do torneio, o Blast Battle I, que consagrou Hitmontop como campeão. O Blast Battle I serviu para atrair novos lutadores. Vários destes entraram na segunda edição. Destaques foram Pidgeotto e o campeão Shiny Eipam. A terceira edição, ultima antes de uma série problemas entre os membros, teve vitória de Grovyle, fake de Red Game que acompanhava o Big Brother Pokemon. Posteriormente foram criados: Blast Battle Tag!, um torneio em duplas que foi um fracasso, Blast Battle IV, a quarta edição do torneio, que apesar de ter começado bem, teve um declínio que levou a maior crise do torneio. Depois de tantas crises, Meowth se uniu a Plusle e Hitmontop e criou o Blast Battle V, melhor edição do torneio até então.
Pedro Meowth em campo
Pedro Meowth também ja atuou como luatador em quatro amistosos, todos eles ganhos. Um contra Togekiss, outro contra Pidgeotto, e outro contra Rattata. Seu estilo de luta é próprio, con influências de Hitmontop, Leafia e Togekiss. Valoriza muito a estratégia. Durante o periodo que sucedeu o Blast Battle VI, Meowth criara um Fake de Venomoth,cujo nome era Veno, e desafiara o participante Dark Heart para um amistoso. Venceu e, após alguns meses, revelou sua indentidade no tópico de confissões do Blast Battle.
Rodapé
Ad blocker interference detected!
Wikia is a free-to-use site that makes money from advertising. We have a modified experience for viewers using ad blockers

Wikia is not accessible if you've made further modifications. Remove the custom ad blocker rule(s) and the page will load as expected.