A friend named Harry goes for a visit to Mr. Bean's room. Unfortunately for Bean, Harry has different things and also a gluttonous guy who eats too much, so much that all the food in Bean's fridge are gone. Bean tries to get rid of his friend except his teddy is being stolen so he tries to get it back from Harry. Then, he decides to make him go to a restaurant and orders everything in the menu, and escapes from the bathroom when Harry's not looking. Then, when Harry failed to pay the bill, he was forced to wash the dishes as payment and Bean managed to get his teddy back.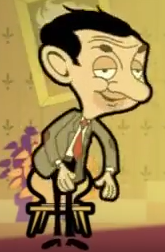 Ad blocker interference detected!
Wikia is a free-to-use site that makes money from advertising. We have a modified experience for viewers using ad blockers

Wikia is not accessible if you've made further modifications. Remove the custom ad blocker rule(s) and the page will load as expected.