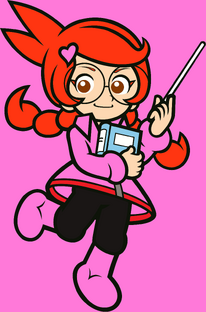 Penny Lina Crygor
is an Character of
WarioWare
. she is One the Main Protagonists (Deuteragonist in WarioWare: Portfolio Cartoon) of the Saga. she is
Dr. Crygor
's Granddaughter, in Online games she dreams of becoming a great scientist like her grandfather. She also has a hidden desire to become a singer.
Bio
Gender: Female
Species: Human
Alignment: Good
Age: 11
Occupation: Scientist, Inventor & "The Girl Power" Team Singer
Personal Color: Flamingo Pink
Boyfriend: Tony (Officially)
First Introduced: WarioWare 3 (1998)
WW : Portfolio Cartoon Debut: S01 E02A: The Pennynsula.
Friends: Wario, Mona (Best Friend), Orbulon, Ashley (Second Best Friend), Tony (Boyfriend), Dribble, Spitz, Kat, Ana, Young Cricket, Jimmy. T, Jimmy. P, 9-Volt, 18-Volt, Dr. Crygor (Grandfather), Mike, Mini-Wario, .
Rivals: Ashley Pussycat (Arch-Rival), Luan (formerly).
Enemies: Dr. Keith Ventor, Black Jewel, Evil Penny (Evil Counterpart), Captain Syrup, Splunks, The Dinosaurs, Muncher the King, Naija
Enemies (WarioWare: Portfolio Cartoon): Deadrabbit, Virusis, Henlarsey (Worst Phobe), Clarky, .
Trivia
Counterparts (WarioWare (T,J&H Productions) Version) (Female Version) (Heroine Version)
 Counterparts (WarioWare: Portfolio Cartoon Version)
Gallery