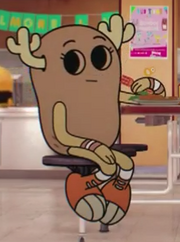 For the plant, see
Peanut
.
Penny Fitzgerald
is a fictional character from
The Amazing World of Gumball
. She is Gumball's girlfriend. She is voiced by Teresa Gallagher.
Bio
Species: Anthropomorphic Peanut/Shape-shifting fairy
Age: 12
Allies: Gumball (boyfriend), Darwin (cutie friend), Banana Joe, Leslie (cousin), Carrie, Alan, Anais (sister-in-law), Nicole (mother-in-law), Richard (father-in-law)
Enemies: Tina Rex, Ms. Simian, Principal Brown
Counterparts (Do not delete, but you can add)
Patricia "Patti" Mayonnaise (Doug)
Connie Souphanousinphone (King of the Hill)
Wendy Testaburger (South Park)
Jackie or Inez (Cyberchase)
Teddy Duncan (Good Luck Charlie)
Numbuh 3 or Numbuh 362 (Codename: Kids Next Door)
Trixie Tang (The Fairly Oddparents)
Daphne (Scooby Doo)
Zephie (Chuggington)
Celia Mae (Monsters, Inc.) 
April O'Neill or Lotus Blossom (Teenage Mutant Ninja Turtles)
Blue (Blue's Clues)
Star Butterfly (Star vs. the Forces of Evil)
Belle Pepper or Megan Sparkles (Sanjay and Craig)
Mika Uehara (Initial D)
Paige Hyland or Maddie Ziegler (Dance Moms)
Cindy Vortex (Jimmy Neutron)
Lara the Ladybug or Maya the Bee (Maya the Bee/Movie, all three boyfriend to Gumball and Willy)
Ad blocker interference detected!
Wikia is a free-to-use site that makes money from advertising. We have a modified experience for viewers using ad blockers

Wikia is not accessible if you've made further modifications. Remove the custom ad blocker rule(s) and the page will load as expected.