Penny Ruff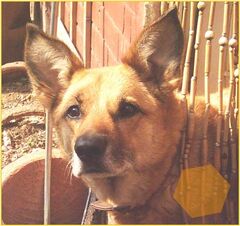 Penny Ruff
Penny is the eldest Ruff in the family at the moment. She is 7 years old and she is gingerish blonde. She has the strongest power, the power of fire ajnd she knows how to use it well. She was the skeptical one who didn't believe that they had powers.
Penny's History
PreWitched
Penny wnet ot school, finished school an she decided not to follow a certain career when her mother died. Although she is very smart and highly qualified, she became the mom of her family and looking after Theo and Leroy is a full time Job!
01: The Doggies
After they all received their powers, she refused to believe it until she realised it was real and that was when she learned how to control her power and she became a very strong witch.
Ad blocker interference detected!
Wikia is a free-to-use site that makes money from advertising. We have a modified experience for viewers using ad blockers

Wikia is not accessible if you've made further modifications. Remove the custom ad blocker rule(s) and the page will load as expected.