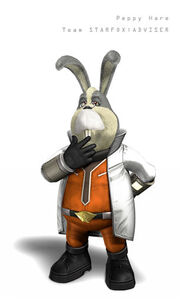 Peppy Hare
is an old rabbit in
Star Fox
games.
Bio
Species: Rabbit
Age: 52
Fur Color: Grey and White
Clothing: White Jacket, Red Jumpsuit, Red Bandana, White Boots, Grey Gloves
Allies: Fox McCloud, Slippy Toad, Falco Lombardi, Lucy Hare (daugther), General Pepper, Katt Monroe, Bill Grey, James McCloud, Rob 64, Krystal
Enemies: Andross, Wolf O'Donnell, Leon Powalski, Pigma Dengar, Andrew Oikonny
Quotes
"Do a barrel roll!"
"Be careful, It's a trap!"
"Slippy, get back here!"
"I saw my life flash before my eyes!"
"You're becoming more like your father."
"Your father helped me like that, too!"
"Sorry, guys, I gotta sit this one out."
"You got your enemy on your tail!"
"Use your brakes!"
"Knock it off, Fox!"
"Watch where you're flying!"
"Don't go diein on me, Fox!"
Counterparts (Mario Version)
Counterparts (Star Fox Version)
Gallery
Ad blocker interference detected!
Wikia is a free-to-use site that makes money from advertising. We have a modified experience for viewers using ad blockers

Wikia is not accessible if you've made further modifications. Remove the custom ad blocker rule(s) and the page will load as expected.