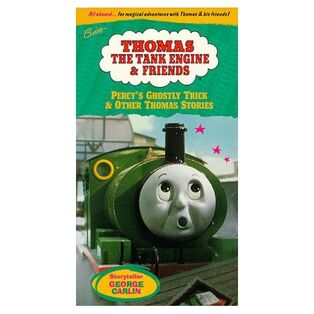 Percy's Ghostly Trick and Other Thomas Stories is a US VHS/DVD release featuring two second season episodes and four third season episodes. Narrated By George Carlin. It was presented by, Quality Family Entertainment and distributed by Video Treasures in 1994 (for Strand Home Video), Patricia Conforme Home Entertainment(for Strand Home Video) in 1995, Cinema Center Films Video in 1996, Timelife in 1994 and Anchor Bay Entertainment in 1996 and 2003 and they released on DVD 2009
Episodes
Percy's Ghostly Trick
Woolly Bear
Thomas and Percy's Mountain Adventure
Escape
Oliver Owns Up
All at Sea
Trivia
in the 1994 Tapes the early verision of Percy's Ghostly Trick has a QFE Sticker Label the Original tape of Percy's Ghostly Trick doesn't have a logo.
The Audio is echoed on the Cinema Center Films Video and Strand Home Video release in 1994
Goofs
In the George Harrison Home Video released has the 1993 Strand Home Video logo.
In the Patricia Conforme Home Entertainment Released, It has Strand Home Video logo.
Some of the 1996 Cinema Center Films tapes do not feature the Cinema Center Films Video logo it use the Strand Home Video logo instead.
Ad blocker interference detected!
Wikia is a free-to-use site that makes money from advertising. We have a modified experience for viewers using ad blockers

Wikia is not accessible if you've made further modifications. Remove the custom ad blocker rule(s) and the page will load as expected.