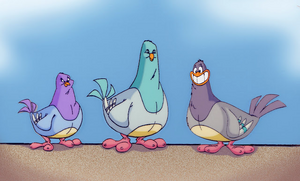 Pesto, Bobby, and Squit
, otherwise known as
The Goodfeathers
, are three characters from
Animaniacs
. Pesto is voiced by
Chick Vennera
. Bobby is voiced by
John Mariano
. Squit is voiced by
Maurice LaMarche
.
Counterparts (Tiny Toon Adventures Version)
Counterparts (Animaniacs Version)
Zip, The Fire Tug, and Zug (TUGS/Salty's Lighthouse)
Winky, Expresso, and Squitter (Super Mario Bros.)
Plusle, Forretress, and Minun (Pokemon)
Timmy Tibble, Oliver Frensky, and Tommy Tibble (Arthur)
Clyde Donovan, Craig Tucker, and Tweek Tweak (South Park)
Adorabeezle Winterpop, General Hologram, and Gloyd Orangebaor (Wreck-it Ralph)
Chef Pee Pee, Cody, and Joseph Or Speedy, Blue Bird, or Big Red (SML)
Ad blocker interference detected!
Wikia is a free-to-use site that makes money from advertising. We have a modified experience for viewers using ad blockers

Wikia is not accessible if you've made further modifications. Remove the custom ad blocker rule(s) and the page will load as expected.