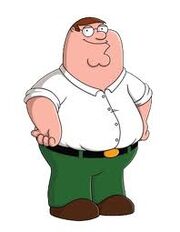 Peter Griffin
is the main protagonist of
Family Guy
. He is the husband of Lois Griffin, the son-in-law of Carter and Barbara Pewterschmidt, the brother-in-law of Patrick Pewterschmidt, the brother-in-law of Carol Pewterschmidt, the son of Francis and Thelma Griffin, the biological son of Mickey McFinnigan, the father of Meg, Chris and Stewie Griffin and the biological father of Bertram. He is voiced by
Seth MacFarlane
.
Relatives
Evil Acts
(please note most were ayes for comedic effect)
Has abused Meg and Chris since they were babies and went as far as to blame Lois for it.
Tortured the Pewtersmidts's cat to death.
Blew up an orphanage without mercy or remorse.
Threw an injured Stewie with infected head wounds under a bus.
Appears In
Counterparts (Family Guy Version)
Theodore, Digby or George (Theodore Tugboat)
Perfect Peter (Horrid Henry, both share the same first name)
Toad, Bowser Junior, or Bowser (SML)
Stan Marsh, Eric Cartman, or Randy Marsh (South Park)
Bob Duncan (Good Luck Charlie)
Numbuh 2 or Numbuh 1 (Codename: Kids Next Door)
Noddy (Noddy's Toyland Adventures)
Dexter's Dad (Dexter's Laboratory)
Roddy (Flushed Away)
Wilson, Chatsworth, or Harrison (Chuggington)
Casey Jr. (Casey Jr. and Friends)
Diggs the Backhoe Loader (Construction Site)
Niki Cassulo (Niki)
Mega Man X (Mega Man X)
Jin Kazama, Craig Marduk or Steve Fox (Tekken)
Hercules (Hercules)
Dr. Whooves (My Little Pony: Friendship is Magic)
Edward Elric (Fullmetal Alchemist)
Rupert's Father (Rupert)
Chowder (Chowder)
Ord (Dragon Tales)
Jay Jay or Big Jake (Jay Jay the Jet Plane)
Willy the Bee, Flip the Grasshopper, Kurt or Judge Beeswax (Maya the Bee/Movie, Perer and Willy are both lazy sometimes)
Counterparts (The Cleveland Show Version)
More Coming Soon
Gallery
Ad blocker interference detected!
Wikia is a free-to-use site that makes money from advertising. We have a modified experience for viewers using ad blockers

Wikia is not accessible if you've made further modifications. Remove the custom ad blocker rule(s) and the page will load as expected.