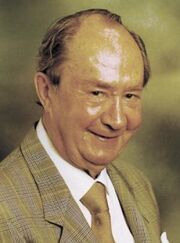 Peter Sallis
, OBE (born February 1, 1921) is an English Actor and Entertainer, well known for his work on British Television, Film and Stage. Although he was born and brought up in London, his most notable roles require him to adopt the accents and mannerisms of a Northerner.
Sallis is known for his role as the main character Norman Clegg in the long-running British TV Comedy Last of the Summer Wine, set in a Yorkshire town. He is one of the longest serving cast members. He also appeared in the Prequel series First of the Summer Wine as Norman Clegg's father. Sallis also provides the voice of Sir Topham Hatt, the Fat Controller in Thomas the Tank Engine and Friends.
Ad blocker interference detected!
Wikia is a free-to-use site that makes money from advertising. We have a modified experience for viewers using ad blockers

Wikia is not accessible if you've made further modifications. Remove the custom ad blocker rule(s) and the page will load as expected.