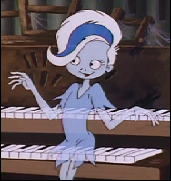 Phantasma is a young ghost/phantom student at Miss Grimwood's Finishing School from Scooby Doo and the Ghoul School.
Counterparts
Pinkie Pie, Sonata Dusk, or Twilight Sparkle (My Little Pony: Friendship is Magic)
Maggie Pesky (The Buzz on Maggie)
Dawn, Kitty, Izzy, Sierra, or Lindsay (Total Drama)
Star Butterfly (Star vs. the Forces of Evil)
Giselle (Enchanted)
Mabel Pines (Gravity Falls)
Princess Peach (Super Mario Bros.)
Spectra Vondergeist (Monster High) (both are ghosts)
Faline (Bambi)
Joy (Inside Out)
Anna (Frozen)
Viper (Kung Fu Panda)
Alice (Alice in Wonderland (1951))
Minnie Mouse (Mickey Mouse) (both have the same voice actress)
Lil Deville (Rugrats)
Pocahontas (Disney's Pocahontas)
Aurora (Sleeping Beauty)
Cosmo the Seedrian (Sonic X)
Mindy the Mermaid (SpongeBob SquarePants)
Kuki Sanban (Codename: Kids Next Door)
Ad blocker interference detected!
Wikia is a free-to-use site that makes money from advertising. We have a modified experience for viewers using ad blockers

Wikia is not accessible if you've made further modifications. Remove the custom ad blocker rule(s) and the page will load as expected.