Ad blocker interference detected!
Wikia is a free-to-use site that makes money from advertising. We have a modified experience for viewers using ad blockers

Wikia is not accessible if you've made further modifications. Remove the custom ad blocker rule(s) and the page will load as expected.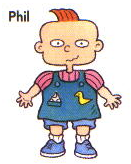 Phil DeVille
is a character from
Rugrats
. He is
Lil DeVille
's twin brother and a good friend of Tommy. Like his twin sister, he is voiced by
Kath Soucie
.
Bio
Age: 1
Hair Color: Brown
Clothing: Pink Undershirt, Green Shirt, Blue Pants, White Socks, Blue Shoes
Family: Betty (Mother), Howard (Father), Lil (Sister)
Friends: Tommy Pickles, Chuckie Finster, Lil, Dil Pickles, Kimi Wantanabe Finster, Susie Carmichael
Enemies: Angelica Pickles, Timmy McNulty, Teddy McNulty, Terry McNulty, Ty McNulty, Todd McNulty, Tommy Pickles (Troodon105's version only), Chuckie Finster (Troodon105's version only), Kimi Wantanabe Finster (Troodon105's version only)
Counterparts
Luigi or Oogtar (Super Mario Bros.)
Gabe Duncan (Good Luck Charlie)
Tuff, Knuckle Joe, or Lololo (Kirby)
Buizel (Pokemon)
Piglet, Eeyore, or Tigger (Winnie The Pooh)
Flower (Bambi)
Pingo (Pingu)
Phil (Madagascar, both share the same name)
Cooker (Wallace and Gromit)
AJ or Cosmo (The Fairly OddParents)
Mr. Herriman or Blooregard "Bloo" Q. Kazoo (Foster's Home for Imaginary Friends)
Green Lantern (The LEGO Movie)
Johnny, Rolf, Kevin, or Ed (Ed, Edd n Eddy)
Major Monogram, Jeremy Johnson, Albert Du Bois, Baljieet Tjinder, or Buford Van Stomm (Phineas and Ferb)
Kyle Broflovski or Kenny McCormick (South Park)
Nanette Minior (Angela Anaconda (Troodon105's version))
Revvin Evan (Jay Jay the Jet Plane)
Edward Trunk (Rupert)
Zipper Cat (The Get Along Gang)
Gallery