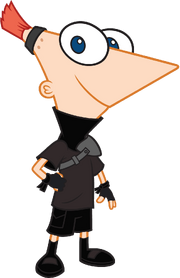 Phineas Flynn (2nd Dimension) 
is 
Phineas'
 counterpart from the 2nd Dimension.
Counterparts
Baby Mario (Super Mario Bros.)
Chris (Sonic the Hedgehog)
Ash Ketchum (Pokemon)
Iroo (Kirby)
Speedy Gonzales (Looney Tunes)
Squit (Animaniacs)
Geoff (Total Drama)          
Roxas or Ventus (Kingdom Hearts)
Ad blocker interference detected!
Wikia is a free-to-use site that makes money from advertising. We have a modified experience for viewers using ad blockers

Wikia is not accessible if you've made further modifications. Remove the custom ad blocker rule(s) and the page will load as expected.