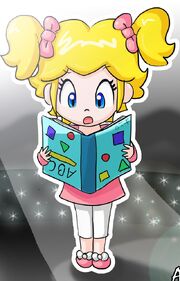 Pichii Stal is the 4 to 6 year old counterpart of Princess Peach. This character was created by AleneStar at DeviantArt.
Parodies
Counterparts (Pichii Stal Version)
Cream the Rabbit or Amy Rose (Sonic the Hedgehog)
Pearl or Sunshine (TUGS/Salty's Lighthouse)
Carla or Pugwash (Theodore Tugboat)
Becky or Tanya (Shining Time Station)
Anais Watterson (The Amazing World of Gumball)
Blossom (The Powerpuff Girls)
Jigglypuff (Pokemon)
Lisa Simpson (The Simpsons)
Vanellope von Schweetz (Wreck-It Ralph)
Young Anna (Frozen)
Counterparts (Mario Version)
Caroline (Thomas the Tank Engine and Friends)
Ad blocker interference detected!
Wikia is a free-to-use site that makes money from advertising. We have a modified experience for viewers using ad blockers

Wikia is not accessible if you've made further modifications. Remove the custom ad blocker rule(s) and the page will load as expected.