Pidgeotto
(Pidg)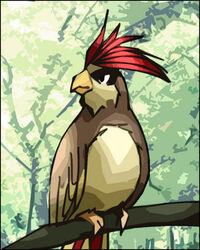 Desempenho
Lutas Oficiais
8
Vitórias
3
Derrotas
5
Aproveitamento
30%
Associado(a) à:
Pidgs and Dods

Pidgeotto, ou apenas Pidg, é um dos participantes do Blast Battle - Torneio Pokemon. Foi um dos mais populares participantes no auge da guerra de Plusle contra os noobs.
História
Pré Blast Battle e Vida Pessoal
Pidgeotto não era conhecido antes do Blast Battle. Suas primeiras aparições foram no fim do Blast Battle I. Pidg, como era conhecido, foi um dos responsáveis pela revolução noob. Antes dele, nenhum noob era respeitado no Blast Battle. Apesar de não se saiu tão bem nas lutas, Pidg enfrentou Plusle, o que nenhum outro noob teve coragem de faser. Em união com outros noobs da época como Dodrio, Mudkip, e Bako, passou a fazer com que os outros lutadores olhassem de forma diferente para os noobs, lembrando que eles são apenas iniciantes inexperientes. Pidg fez amizade com muitos membros do Blast Battle, entre eles Pedro Meowth, Charizard Pink e Hitmontop.
Blast Battle II
Pidgeotto fez uma boa campanha no Blast Battle II. Começou como iniciante, pois não participou da primeira edição do Blast Battle. Na primeira fase venceu Lairon, e logo na segunda avançou direto para as semi-finais por causa da desistencia de Blaziken, que havia mudado de perfil para Crowbat, o que não era permitido nas regras do torneio. Nas semi-finais perdeu para Shiny Aipom, que mais tarde seria o campeão do torneio. Disputou o terceiro lugar do torneio com Hitmontop, mas acabou perdendo e ficando com o quarto lugar. A luta pelo terceiro lugar chegou a ser considerada uma das melhores de todas as edições do torneio. Pidgeotto se revelou um ótimo lutador.
Blast Battle III
Na primeira fase, fez uma boa luta e venceu Tyrogue, que foi considerado um dos melhores iniciantes do Blast Battle, e surpreendeu a todos com mudanças notóriamente positivas em seu estilo de luta. Na segunda fase, enfrentou outro novato, Treecko, que era ninguém menos que Red Game, em outro perfil. Era considerado favorito por alguns, e não era por outros, mas fez uma apresentação horrível e inventou lances impossíveis. Acabou perdendo. Na repescagem, enfrentou Hitmontop, numa revanche do terceiro lugar do torneio anterior, mas não venceu. Apesar de não ter feito uma boa campanha no Blast Battle III, Pidg terminou todas as lutas que participou, diferente do torneio anterior, onde havia chegado ao quarto lugar lutando apenas duas das 4 lutas que fez.
Blast Battle Tag!
Pidgeotto formou uma dupla com Dodrio, um dos participantes do Blast Battle III, se chamava "Pidgs and Dods", não parecia ser ameaçadora, mais se esperava alguma coisa da dupla. Eles perderam por WO na pimeira luta.
Conflitos
Pidgeotto era considerado um mal lutador, além de noob por outros membros que tinham opiniões de peso no Blast Battle como Harrison, Red Game e Plusle, o que fez com que eles ficassem com pose de malvados que odiavam noobs. Como Pedro Meowth sempre defendia o direito dos noobs de lutar, muitas vezes Pidgeotto era colocado como o pobrezinho da história. Por outro lado, há os que se mantiam neutros quanto a postura de Pidg. O auge das brigas com Pidgeotto foi no início do Blast Battle III, depois disso as coisas se amenizaram.
Estilo de Luta
O estilo de luta de Pidgeotto foi formado a partir de amistosos e de suas primeiras lutas. Aprendeu a lutar lutando, o que é quase impossível nos dias de hoje onde a competitividade no Blast Battle é muito grande. Influências notórias são as de Hitmontop e Grovyle. Ao longo do torneio, Pidg também influenciou muitos dos denominados noobs, como Dodrio e Bako, inclusive lutadores considerados bons como Pingu e Machoke.
Habilidades
Aparições pós Blast Battle
Pidgeotto apareceu durante o Blast Battle IV no tópico de Cards de Togekiss, misteriosamente sumiu.
Mais tarde, no Blast Battle V, Pidgeotto voltou a aparecer na luta entre Tyrogue e Totodille. Chegou a entrar durante alguns dias. Mais uma vez, sumiu misteriosamente.
Novamente, Pidgeotto re-apareceu, agora com uma atitude um pouco diferente apesar de continuar "alegre" como sempre.
Rodapé
Ad blocker interference detected!
Wikia is a free-to-use site that makes money from advertising. We have a modified experience for viewers using ad blockers

Wikia is not accessible if you've made further modifications. Remove the custom ad blocker rule(s) and the page will load as expected.