This article is about the animal villain introduced in 2007. For the animal, see
Cat
. For the color, see
Orange
.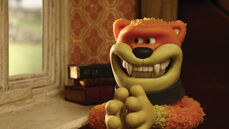 Pidsley is the main antagonist of Shaun the Sheep.
Counterparts (Do not delete, but you can add)
Nick Vermicelli (Hey Arnold)
Roger Klotz (Doug)
Admiral Razorbeard (Rayman)
Stewie (Family Guy)
Meowth (Pokemon, both are cats)
King Candy (Wreck-It Ralph)
Ripslinger (Planes)
Ad blocker interference detected!
Wikia is a free-to-use site that makes money from advertising. We have a modified experience for viewers using ad blockers

Wikia is not accessible if you've made further modifications. Remove the custom ad blocker rule(s) and the page will load as expected.