Pierścienie Przeznaczenia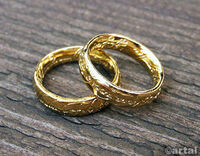 Nikt nie zna dokładnego pochodzenia tych pierścieni ale prawdopodobnie zostały wykute w kuźni Seal-Daras, gdzie Wielki Tlen za sprawą potężnego kowala Kel-Talesa postanowił stworzyć przedmioty dające wielką moc swoim Mnichom. W pierścieniach zawarta jest moc Wszechmogącego. Pieczę nad nimi sprawują Trzej Wielcy Mnisi. Dzięki nim mogą sie oni łączyć w sile i potędze z Wielkim. Tlen obdarował je swoją mocą by pomagały ludziom lecz pierwszy Mnich, który otrzymał jeden z pierścieni wykorzystał go by podporządkować sobie ludzi. Wspaniałomyślny zesłał Mnicha za kare do najgłębszej Otchłani Czeluści Cienia. Podobno szczątki mnicha do tej pory leża na dnie otchłani.
Zobacz też:
Ad blocker interference detected!
Wikia is a free-to-use site that makes money from advertising. We have a modified experience for viewers using ad blockers

Wikia is not accessible if you've made further modifications. Remove the custom ad blocker rule(s) and the page will load as expected.