Pinky Dinky Doo
will be the fourth episode of the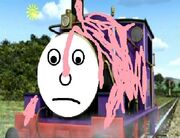 seventeenth season of Thomas and Friends
Date
January 24, 2013 (UK)
March 28, 2013 (US)
Plot
It was a very busy day on the Island of Sodor. Everyone was working harder. One morning, Cha rlie arrived at Brendam Docks. He had to collect pots of pink paint to take to the steamworks. Edward was there. Charlie buffed up to the flatbed. Edward thought Charlie needed help, so he decided to be the back engine.
But Charlie was sure he could do it himself and he puffed away. Charlie wint up in to the tip vie Gordon's Hill be Thomas see Charlie is Pulled with pink paint. Thomas is surprise Charlie is Pulled Trucks With pink paint. Charlie is to hes new goin to get chance Thomas wint Down the Hill with hes Trucks.
As he chuffed along, he met Percy at the level crossing. Percy wasn't busy today. Percy wanted to be Charlie's back engine, but Charlie was sturn and didn't want a back engine. So, he pumped his pistons and raced away from Percy as quick as he could. He forgot to go slow, like the Fat Controller told him to and he speeded on.
His coupling was loser and loser. He met Henry at Maron station. Henry was delivering fish. Charlie didn't want Henry's help. Henry told him to slow down, but he didn't listen. Charlie sped along the track faster than even Spencer. Charlie sped passed Toby who shouted out, SLOW DOWN CHARLIE! But he didn't listen to him and went even faster.
Then there was trouble. Charlie hit a truck and bounced into a sidning. He hit some buffers and with a bash and a crash, he toppled off the track. Paint pots flew everywhere and splattered all over Charlie. He was pink from funnel to footplate. Charlie was silly James, Gordon, Duck and Oliver is Cevrd in Pink Paint. Just then, Edward, Henry, Percy and Toby all puffed up. They saw Charlie very sad. So they all decided to help.
Edward collected Rocky to lift Charlie back on the track and Percy and Henry pulled and pushed him to the wash-down. Then, he collected new flatbeds of pink paint. This time he let Toby help. And they arrived just in time. Victor, Kevin and the Fat Controller were pleased and thought Charlie was very useful.
Characters
Thomas
Edward
Henry
Percy
Toby
Duck
Oilver
Charlie
Victor
Rocky
Kevin
The Fat Controller
Gordon (does not speak)
James (does not speak)
Rosie (cameo)
Mavis (cameo)
Lady Hatt (cameo)
Old Bailey (cameo)
Spencer (mentioned)
Locations
Brendam Docks
Sodor Steamworks
Maron Station
Gordon's Hill
Farmer McColl's Farm
Trivia
The Open-Topped Carriage is seen at the Steamroks after Charlie and Toby chuff in.
This features Oliver first appearance since season 12.
Goofs
Charlie would have derailed after hitting the truck.
Toby's number 7 is missing as Charlie puffs past him.
Throughtout the whole episode, Edward has grey buffers.
Ad blocker interference detected!
Wikia is a free-to-use site that makes money from advertising. We have a modified experience for viewers using ad blockers

Wikia is not accessible if you've made further modifications. Remove the custom ad blocker rule(s) and the page will load as expected.