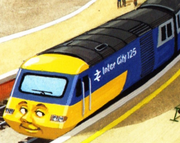 Philippa (Pip for short) and Emma make up a British Rail High Speed Train InterCity 125 set. Their first appearance was in "Gordon the High-Speed Engine", where
Gordon
was taking a railtour to Carlisle, so they took back the Express for him.
Trivia
Their names happen to be the names of two siblings in the Agatha Christie novel, A Murder is Announced.
Thomas and His Friends was the only time in which Pip spoke. Until then, Emma only spoke.
Counterparts
Julia and Margaret (Theodore Tugboat)
Luanne Van Houten and Ruth Powers (The Simpsons)
Lori & Leni or Kat & Ana (WarioWare (T,J&H Version))
Bitzi Baxter and Laverne Frensky (Arthur)
Ad blocker interference detected!
Wikia is a free-to-use site that makes money from advertising. We have a modified experience for viewers using ad blockers

Wikia is not accessible if you've made further modifications. Remove the custom ad blocker rule(s) and the page will load as expected.