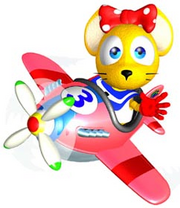 Pipsy the Mouse
is a character from
Diddy Kong Racing
.
Description
Pipsy Mouse has spent her entire life on Tiger Island. She began racing around the Island's tracks at a very young age, and became extremely skilled in handling the courses. No-one had seen such skill at Pipsy's age, and although she was very young and excitable she quickly became a well liked resident of Tiger Island. 
So when she and her family were left homeless from Wizpig's assault, she became extremely distressed over the whole incident. It was even harder for her to get everyone to believe her when she said that she'd seen Taj the Genie, who hadn't been seen on the island for fifty years. Nonetheless, she'd said it was true, and it was. 
Although Pipsy didn't beat the evil Wizpig in the final race, she did earn Balloons in the races which assisted the team. Pipsy's still living on Tiger Island with her parents, as the family has been able to settle into their island home peacefully once again. Pipsy is still practicing to be the best racer that she can be, and her parents are extremely proud of her for it.
Counterparts (Mario Version)
Counterparts (Diddy Kong Racing Version)
Ad blocker interference detected!
Wikia is a free-to-use site that makes money from advertising. We have a modified experience for viewers using ad blockers

Wikia is not accessible if you've made further modifications. Remove the custom ad blocker rule(s) and the page will load as expected.