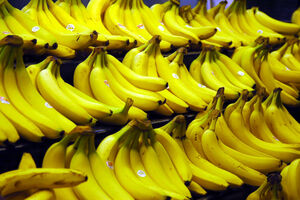 Plātana
ē noma poblāt usę pru fructa que ią ūt plātanora, 'na herbatiāt planta. Ē tambeu consę, ňa Austra, comu
banana
, dō uō dią «plātana» pru
tambuora
(Norþāt) o plātana malaiāt (Œstāt). Plātanē nativą ūt rexiā tropicāt
Asiæ Austrestāt
,
Ysloca Malaiāt
ed
Australia
. Stiora, uō lōt-cultivą pru tutāt tropice [
1
].
Plātanōrē ią ūt xenusa Musaceæ, ed lī cultivę sopreututāt pru līs fructa, e menāt pru productēa fibræ e comu plante ornamāt. Debtę līs tamaňa e structūra, bananōrē confondę sūvāt pru arbre. Fructa plātanōræ creşą grūpēň, cu 20 fructa ū 'na maňa. Tōtā ed 3 ū 20 maňe ū 'n'oca. 'N'oca piesą ūt 30 ū 50 cilogrē. Fructa avariāt piesą 125 grē, æquōt 75 pručenta ē aqua ed 25% matera secāt. Cāt fructa ą 'na piela que protexą, cu 'na portiā fleşāt dentrāt. Plātanē sirvą pru Vitimā A, Vitima B7, Vitimā C e Potasiā.
Uō cresą plātanē 132 pæēň, māt que cāt altrāt fructa. Cultura populāt e comerşa, 'plātana' refierą ū dulşāt, duosāt plātanē pru desierta, mentreu que māt firmāt fructa usę pru cučina, non manxę crūdāt. Plātanē posę gruondę ū flora plātanæ tambeu. Mentreu que speşe savaxāt on multāt seme ẋloẋāt, presque cāt plātana ū buoca ē x'cu seme.
Plātanē są o desiertāt (xœnāt e mastūrę) o cučināt (e vœrdāt.) Presque cāt plātana expuortę sasse desiertāt, comunque exportę solāt 10-15% tōtāt plātanœ productę, cu destiňa māt comuāt i Uniā Europæ ed Stātē Ūnitāt.
Ad blocker interference detected!
Wikia is a free-to-use site that makes money from advertising. We have a modified experience for viewers using ad blockers

Wikia is not accessible if you've made further modifications. Remove the custom ad blocker rule(s) and the page will load as expected.