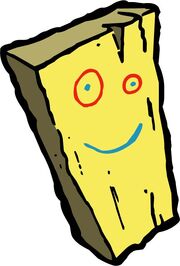 Plank is a character from Ed, Edd, n Eddy. Although Plank is claimed to be a living being, he is never heard or seen moving on screen. However, Jonny seems to be able to understand what he is saying; however, this is likely just Jonny's imagination.
Counterparts
Gary the Snail (SpongeBob SquarePants)
Perry the Platypus (Phineas and Ferb)
Goddard (Jimmy Neutron)
Sparky or Baby Poof (The Fairly OddParents)
Brian or Rupert (Family Guy)
Santa's Little Helper (The Simpsons)
Ringo (Eddsworld)
Snoopy or Woodstock (The Peanuts)
Ad blocker interference detected!
Wikia is a free-to-use site that makes money from advertising. We have a modified experience for viewers using ad blockers

Wikia is not accessible if you've made further modifications. Remove the custom ad blocker rule(s) and the page will load as expected.