Empoleon
(Pingu)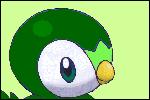 Desempenho
Lutas Oficiais
5
Vitórias
2
Derrotas
3
Aproveitamento
20%
Associado(a) à:
T.P.I

Pingu é um dos membros da série de torneios de luta Blast Battle. Pingu começou como Piplup, e a partir do Blast Battle V fez duas evoluções: para Prinplup e Empoleon. Pingu se tornou um dos mais populares membros do Blast Battle.
História
Pré Blast Battle e Vida Pessoal
Pingu não fez nenhuma aparição publica antes do Blast Battle. Passou a participar do orkut a partir da inscrição no Blast Battle III. Pingu era filho adotivo de Charizard Pink e Hitmontop, mas desfez esta relação pelo fato de não poder ir ao casamento dos dois, e os dois não terem optado pela adiação da data. Pingu teve um caso com uma outra Plipul, Fancy, e se meteu em confusão com outros lutadores (Machokee Pidgeotto) por causa dela. Atualmente Pingu paquera uma novata do Blast Battle, a Milotic Refresh.
Blast Battle III
Pingu já foi ganhando um pouco de credibilidade por participar do fórum do Blast Battle mesmo antes de começar a lutar. Ele participou apenas de uma batalha contra Charizard Pink. Surpreendeu a muitos com seu estilo de luta. Apesar de ser um participante novo e inesperiente, fez uma exelente luta. Apesar de seu ótimo inicio de campanha, Pingu não seguiu para a fase 2 do Blast Battle III, encerrou-a com uma derrota.
Blast Battle Tag! (Juiz)
Pingu participou como juíz do torneio, apesar da objeção de alguns membros da série Blast Battle como Red Game, Plusle e Harrison. Sua unica luta julgada foi a luta entre a dupla "The Ice Ones" (de Snorunt Flakes e Glalie) contra a dupla "Chocolates de Pedras Voadoras" (de Togekiss e Rhyperior). Deu um resultado polêmico em que a dupla The Ice Ones foi a vencedora. Declarou então que não seria mais juiz do torneio, e voltaria ao posto de lutador, que ocupou em sua prticipação no torneio anterior, o Blast Battle III. Pingu ainda atua como juiz em amistosos do Blast Battle.
Blast Battle IV
Pingu fez sua melhor participação no torneio durante o Blast Battle IV. Chegou a ser apontado por vários membros de forte opinião no torneio como um dos favoritos ao título de campeão. pingu havia evoluido muito após a derrota contra Charizard Pink no Blast Battle III, e estava mais preparado para enfrentar os adversários. Em sua primeira luta, enfrentou um influente lutador, Machoke. As opiniões eram divididas no início, mais ao longo da luta já se podia ver a superioridade de Pingu em campo, que venceu a luta com uma vantagem de 2 pontos. Na segunda fase, enfrentava mais uma difícil batalha contra Salamence, que fez uma exelente campanha no Blast Battle III. Após uma luta confusa de ambas as partes, o juiz Mr. Briney julgou a luta dando vitória ao Pingu, o que causou um pouco de polêmica e questionamento da parte de Salamence. Na fase seguinte, já com o torneio em crise, assim como muitos lutadores, Pingu desistiu. Ele faria uma luta contra Hitmontop.
Blast Battle V
A participação de Pingu foi curta e polêmica. Na sua primeira e unica luta no torneio, enfrentou Sneasel, um dos novatos do Blast Battle V. Fez uma luta boa, e causou surpresa a muitos evoluindo para Prinplup no decorrer da luta. Conservadores como Plusle e Pedro Meowth não apoiavam essa decisão, que mesmo assim foi tomada e posta em prática. No fim da luta, Plusle declarou empate, e pediu um round 6 de desempate, só que não tinha percebido que havia feito a soma errada de pontos que dava vitória a Sneasel. Sendo assim, Pingu foi eliminado do torneio. Mais tarde, Plusle confessou que fez isso para não ser julgado, já que mantia relações estreitas com Pingu. Como já era tarde demais, nada pôde ser feito.
Estilo de Luta
No inicio de sua participação no Blast Battle, Pingu mantia uma relação estreita com Hitmontop e Charizard Pink. Era filho adotivo dos dois. Após fazer sua primeira luta com Pink, esta relação se aprofundou mais, o que gerou uma influência mais forte ainda dos dois em seu modo de lutar. Mais tarde ao ingressar para o T.P.I., e manter convivência com Tyrogue e Charizard Black, foi se enquadrando ao estilo de lutar do clã. Pingu ajudou a desenvolver o estilo de luta do T.P.I., que influencia muitos lutadores novatos no Blast Battle.
Habilidades
Trivia
Pingu foi um dos escritores da polêmica Invasão Miltank, ao lado de Salamence e outros.
Apareceu na fanfic de comédia/drama de Pedro Meowth, O Mistério da Batata-Doce como a empregada Macabra. O Papel que era pequeno, ganhou grande repercusão no decorrer da trama.
Rodapé
Ad blocker interference detected!
Wikia is a free-to-use site that makes money from advertising. We have a modified experience for viewers using ad blockers

Wikia is not accessible if you've made further modifications. Remove the custom ad blocker rule(s) and the page will load as expected.