Porygon2
(Luck)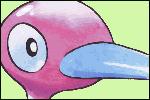 Desempenho
Lutas Oficiais
2
Vitórias
1
Derrotas
1
Aproveitamento
50%
Associado(a) à:
T.P.I.
Porygon 2, muitas vezes chamado por Luck ou P2, é um dos participantes do Blast Battle - Torneio Pokemon. Vem sendo um dos principais destaques desde o Blast Battle IV.
História
Pré Blast Battle
Porygon 2 fez várias aparições no Blast Battle Amistososantes de participar do Blast Battle. Sua principal luta nos amistosos foi contra Tyrogue, porém perdeu por pouco. Red Game, juiz da luta, considerou-a como um dos melhores amistosos.
Blast Battle IV
Porygon 2 se inscreveu no Blast Battle IV e, ao contrário de muitos, foi um novato muito elogiado. Porygon2 teve muita sorte na primeira fase do Blast Battle IV. Enfrentou Gold Houndoum, porém sua adversária não parecia estar com muita vontade de lutar. Sem muitos esforços, ele a derrotou. Porém, o que sobrou de sorte na primeira fase, faltou na segunda. Porygon 2 enfrentará Grovyle, campeão do Blast Battle III e do Blast Battle Tag!. Após uma batalha com alguns erros de sua parte, Porygon 2 se despediu do torneio na segunda fase, sem ter muito o que comemorar. Sua credibilidade havia caido um pouco pelos motivos dados para suas faltas
Blast Battle V
Porygon 2 foi um dos que se afastaram do torneio durante a maior crise do Blast Battle, que aconteceu em um periodo que intercalava o BB4 do BB5. Surpreendentemente, reapareceu às vesperas das inscrições do torneio, inscrevendo-se então logo após a abertura destas. Na primeira fase foi adversário de Gallade, outro perfil de Machoke. Os dois fiseram uma luta equilibrada, mas Porygon 2 venceu e seguiu para a segunda fase. Na segunda fase pegou um adversário um pouco mais forte: Glalie. Apesar da boa fase de Glalie, que vinha de uma vitória contra Togekiss, acabou cometendo alguns erros que foram sumamente contados a favor de sua derrota, o que deu a classificação para Porygon 2, que enfrenta na terceira fase Gardevoir. Sem ele mesmo esperar, venceu Gardevoir e passou para as semi-finais, aonde enfrentou Tyrogue, e foi derrotado. Sua campanha se terminou ao vencer Mudkip na disputa de 3º Lugar, entrando na história do Blast Battle.
Estilo de Luta
Porygon 2 tem um estilo baseado em vários outros lutadores. Nota-se influencia visivel de Togekiss, Grovyle e Tyrogue. Ambos usam uma estratégia mais agressiva do que defensiva. Ao longo de sua carreira como lutador, Porygon 2 também influenciou um pouco no modo de lutar de seus adversários tanto em lutas oficiais como em amistosos.
Ataques
Rodapé
Ad blocker interference detected!
Wikia is a free-to-use site that makes money from advertising. We have a modified experience for viewers using ad blockers

Wikia is not accessible if you've made further modifications. Remove the custom ad blocker rule(s) and the page will load as expected.