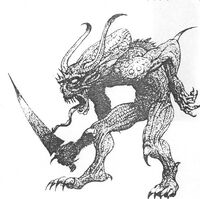 Mistrz gry co jakiś czas urozmaica grę zsyłając na bohaterów mniejsze i większe potworki. Oto spis tych, które miały nieprzyjemność spotkać nasze postaci:
Porwiwół – wielki potwór zabity przez Jurgena Klausa
Mergeth – duża jaszczura (2.5 metra wzrostu) – nasza wychowanka
Morglum Karkołamacz – (ponad 2 metry wzrostu) przywódca armii goblinów i orków – zabił go Olbracht
Skaven - potęrzny 2 metrowy przedstawiciel tego gatunku - zabity przez Hoga
Vendi – zło buszujące po górach na ścieżce gnomów (także jakaś idea może to być)
Vendigo – potwory powstające z Valachów – jeden z nich zabił Olbrachta.
Cień – cień raniący i zabierający życie ( ludzie się starzeli). Zniszczony przez Hogo dzięki broszce Unosar.
Smok z Grząśli (a raczej stara "pożółkła ze starości jaszczurka z obciętymi skrzydłami) – ciężko ranny przez Durenmata. Zabity najprawdopodobniej przez inną drużynę (może być to spisek Smoczego Paktu, gdyż wywołało to Czas Pożogi - wojnę z Gepidami)
Krwiopuszcz - diabeł z Kurchanu wezwany przez Axel'a, zabity oczywiście przez Hogo
Opiumowy Grzdyl - duch powstały z opium - złapany w butelkę przez Erfinda i Falandara
Ad blocker interference detected!
Wikia is a free-to-use site that makes money from advertising. We have a modified experience for viewers using ad blockers

Wikia is not accessible if you've made further modifications. Remove the custom ad blocker rule(s) and the page will load as expected.