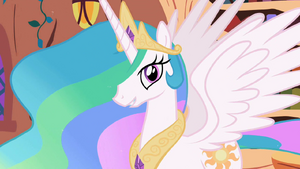 Princess Celestia
is a character in
My Little Pony: Friendship is Magic
. She is voiced by
Nicole Oliver
.
Counterparts (Girl Version)
Counterparts (Boy Version)
Sir Topham Hatt (Thomas the Tank Engine and Friends)
Captain Star (TUGS)
J.B. King (Shining Time Station)
King Acorn or Silver the Hedgehog (Sonic the Hedgehog)
Jon Arbuckle (Garfield and Friends)
Christopher Robin (Winnie the Pooh)
King (Tekken)
Big Ben (Scooby Doo, Where Are You)
Gallery
Ad blocker interference detected!
Wikia is a free-to-use site that makes money from advertising. We have a modified experience for viewers using ad blockers

Wikia is not accessible if you've made further modifications. Remove the custom ad blocker rule(s) and the page will load as expected.